25 nóvember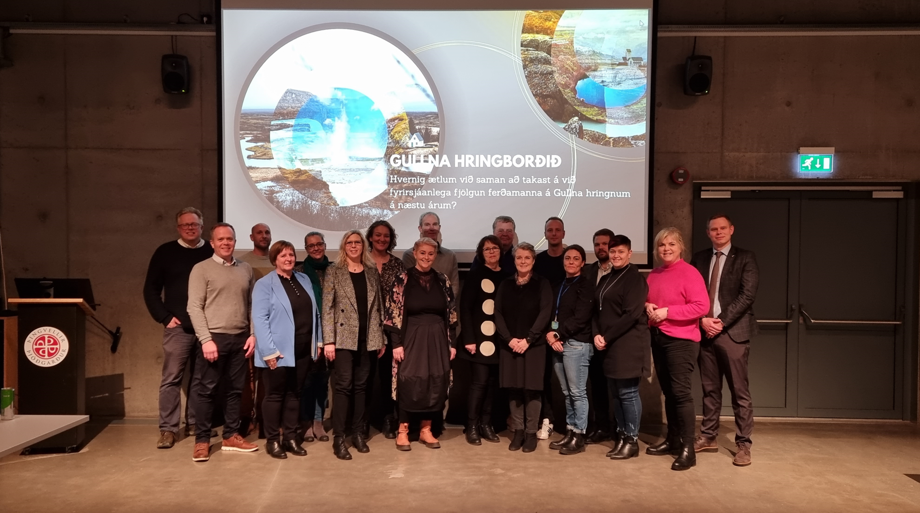 Members of the Golden Round Table
Attendies from left to right: Einar Á.E. Sæmundsen, Helgi Kjartansson, Valdimar Kristjánsson, Ásta Stefánsdóttir, Eyrún Jenný Bjarnadóttir, María Reynisdóttir, Inga Dóra Hrólfsdóttir, Einar Pálsson, Hafdís Huld Björnsdóttir, Ásborg Arnþórsdóttir, Svanur G. Bjarnason, Hildur Kristjánsdóttir, Vigfús Þór Hróbjartsson, Katrín Karlsdóttir, Jón Bjarnason, Ása Valdís Árnadóttir, Aldís Hafsteinsdóttir and Vilhjálmur Árnason.
New collaboration forum for the golden circle was established today in a meeting held in Þingvellir national park´s visitor centre -and will be called the Golden Round Table.
The issue at hand was: "How are we going to cooperate with foreseeable increase in tourism on the Golden Circle in coming years?" Of course following the question is how do we also maintain a good experience for our visitors.
Representatives of public institutions that deal with issues related to the Golden Circle came together. There were representatives from: the Ministry of Culture and Trade, the Environment Agency, Þingvellir National Park, Road Administration, Bláskógabyggð, Grímsnes- and Grafningshreppur and Hrunamannahreppur. A consultant from RATA moderated the meeting and led the discussion of the Golden Round Table.
Presentations were given that looked at the state of affairs in the region from different perspectives and the upcoming projects were discussed. The roles and responsibilities of different parties, future forecasts for the number of tourists as well as the organization and management of destinations were discussed. Challenges in road maintenance and service, challenges of municipalities, visitors' attitudes and some other things were also reviewed.
Cooperation and positivity prevailed at the meeting. In the future, there will be ongoing dialogue between these parties and the involvement of more stakeholders, both within and outside the region, will be requested as time goes on.